South African Sardine Run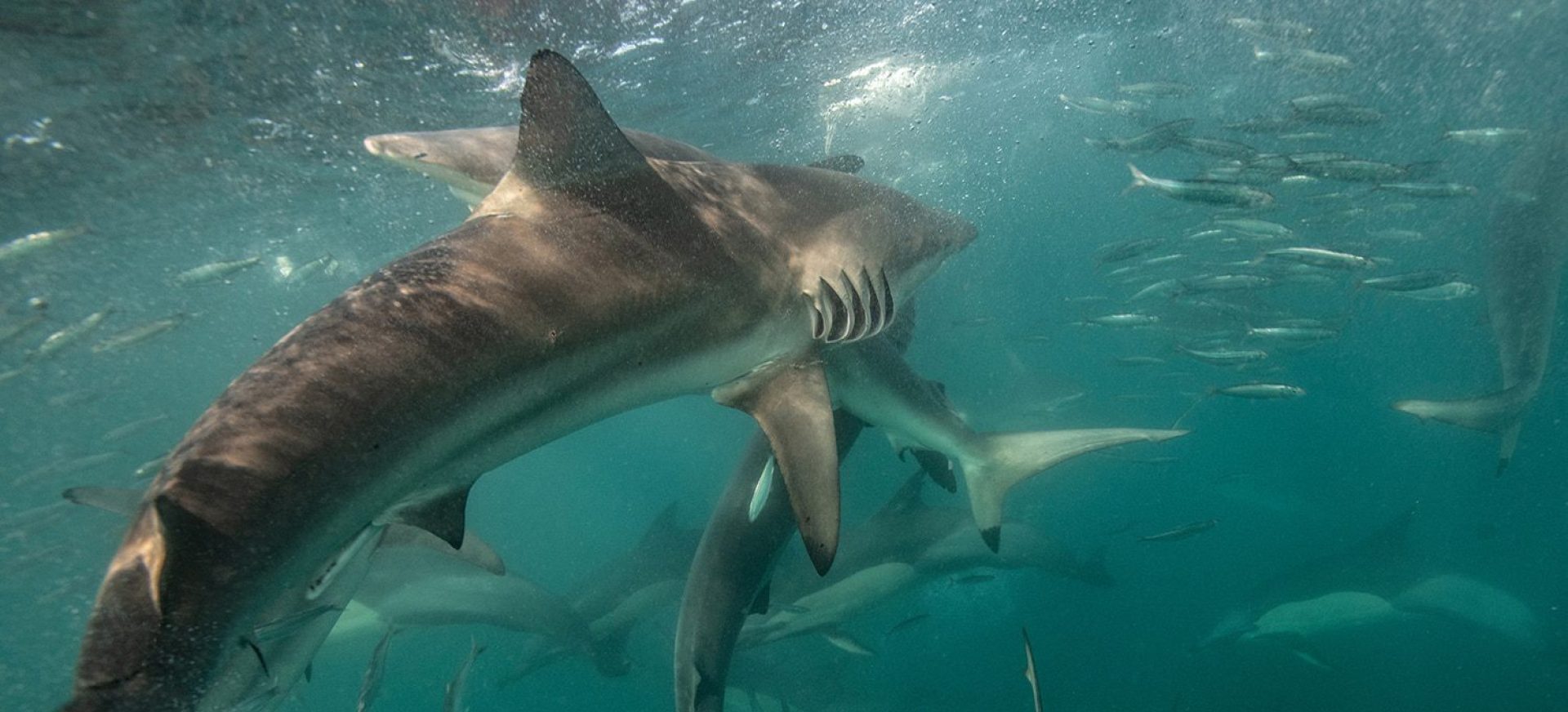 South African Sardine Run
Come with us to South Africa and experience the unforgettable wildlife spectacle that is the Sardine Run. The stage is the subtropical seas of South Africa's Wild Coast. The plot highlights the classic struggle for balance between those at the top of the food chain, and those at the bottom. The major players are sharks, dolphins, whales, game fish, and seabirds. The sardines draw in the crowds.
*Dates and pricing are subject to change without prior notice due to weather conditions, animal behavior, and currency fluctuation.
Surf-Launched Speed Boats
From June to August, the rugged coastline of southern KwaZulu Natal Province along the eastern edge of South Africa is an amazing place to dive. During these months humpback and pilot whales, dolphins, black-tip and dusky sharks, as well as a whole host of other aquatic creatures make their annual migration from the temperate seas to these magical waters.
When they are joined by the mass migration of sardines, moving in giant bait balls, this becomes one of the most spectacular experiences one can have in the water. There is an element of chance. Sardine populations and migratory patterns are cyclical and vary from year to year due to factors like weather, water temperature, and over-fishing. Some years the bait balls are sparse, and other years they arrive in the millions.
The ocean is temperamental this time of year, so we must warn you that the seas are often tough and unpredictable, with unforgiving waves, daring you to get in the water. Sometimes the conditions are too dangerous and we will need to pass on that dare. We can expect that there will be a day or two on our trip when the conditions will be too challenging for us to launch. On these days, we will have the option of relaxing or exploring the territory around the Mbotyi River Lodge.
When the conditions are ideal, we will be out looking for bait balls. Sometimes we find them when we get a call on the radio from a spotter or another captain — more frequently, will find ourselves first on the scene, something we will know when we see the cloud of gannet birds, in a frenzy over the water, taking turns diving from the sky then soaring back again into the cloud with their prey, snatched from the water below. This is where the action is.
Once in position, we will back roll into the water, finding ourselves right in the middle of a show already in progress — and what a show it is!
Bodies in motion all around us — action everywhere — all centered on a giant ball of sardines, who have migrated to this spot to host lunch. We will have seats on stage, right in the middle of the scene. Things will be moving quickly, adrenaline will take over as we witness dolphins aggressively herding sardines — picking off the unlucky ones that make up the ever-shrinking perimeter; blacktip and dusky sharks  piercing through the bit balls, like arrows through a soft target, ripping voids where they gulp down the hapless fish caught in their paths.
Those sardines that try to escape upwards meet the petrel birds who are hunting them from the surface, while gannet birds get their meals by diving straight down through the bait balls. The best action is constant, overwhelming — filling the senses at hyper-speed. There is no experience quite like it.
Day 1 – Arrive Durban
Please make your hotel reservation — Group will be meeting at the Hilton on Day 2
Day 2 – Travel to Lodge
Early morning at 8am departure, group transfer 5 hours to Wild Coast, Mbotyi River Lodge
Days 3-13 – Adventure in the Water
Every morning we commence on our adventure in search of sardines, Gannets diving, dolphins, sharks and brutus whales
Day 14 – That's a Wrap!
Early morning, 8am group transfer of 5 – 7 hours to Durban, in order to connect with international flights…
Temperature
Water 68 – 72°F (20 – 23°C)
Surface 60 – 78°F (14 – 26°C)
Mboyti River Lodge
"A warm welcome awaits at Mbotyi River Lodge, a family hotel and holiday resort on the stunning Wild Coast in the Eastern Cape of South Africa. Pondoland's best kept secret is situated at the mouth of the tidal Mbotyi River nestled between the rolling hills, lush tropical forest and the warm Indian Ocean.
This unique Wild Coast hotel is the perfect place for a peaceful, tranquil holiday or for the more adventurous traveler wanting to experience the many amazing natural treasures like waterfalls and forests this coast has to offer."
More information available here at the Lodge's website Mbotyi River Lodge
Included
10 days of scuba and free diving
12 nights at Mboyti River Lodge
All service taxes and port charges
All meals
Double occupancy, standard room
Expedition leaders
Excluded
International and domestic flights
Durban overnight – suggested hotel Hilton, Durban
Round trip transfer Durban to Wild coast Durban – $250 per person
Single occupancy or deluxe upgrade
Passport and visa expenses. arrival and departure taxes
Baggage, cancellation, medical and personal insurance (required)
Costs incurred due to independent travel arrangements
Unused part of the itinerary
Personal charges such as laundry or telecommunication charges
Gratuities
Book flights to Durban, Africa.
There are two ways you can get south to the Wild Coast and to the Mbotyi River Lodge.
Type 1 – By flight. Your gear will be transferred by road to the lodge. Flight time is approximately 75 minutes and the landing is about 40 minutes from the lodge. Please coordinate cost directly with the air company.
Type 2 – Road transfer. Our representative will meet you at 8 a.m. at one key location at the Hilton hotel with all your gear. The drive to Mbotyi river lodge may take anywhere from 5 – 7 hours. It is best we leave before midday and travel during daylight. Due to poor road conditions, we avoid traveling after dark.
You can reserve now by either paying a 33% deposit through our online reservation system or by by mailing a check (Please see Payment Policy, Deposit, and Cancellation Information below — a 3.5% processing fee is applied to all online transactions)
If you'd prefer to mail a check to our office or arrange for a wire transfer, please get in touch with us via the Contact BigAnimals form below
* 3.5% processing fee applied to all online transactions — All prices $USD 
*Dates and pricing are subject to change without prior notice due to weather conditions, animal behavior, and currency fluctuation.
Please mail deposit check to:
Big Animals LLC
189 Evans Avenue, Suite A
Pacific Grove, CA 93950 USA
Payment policy and deposit
When we receive your deposit, we will send you a comprehensive and detailed trip preparation document about the experience and the destination. All trip costs are subject to change without prior notice until your reservation is confirmed. All trips require you carry trip, health, and dive (if applicable) insurance. This information as well as your passport photo will be requested after you place your deposit.
Full payment is due no later than 90 days before departure. We reserve the right to sell any space that is not paid in full by 60 days before departure.