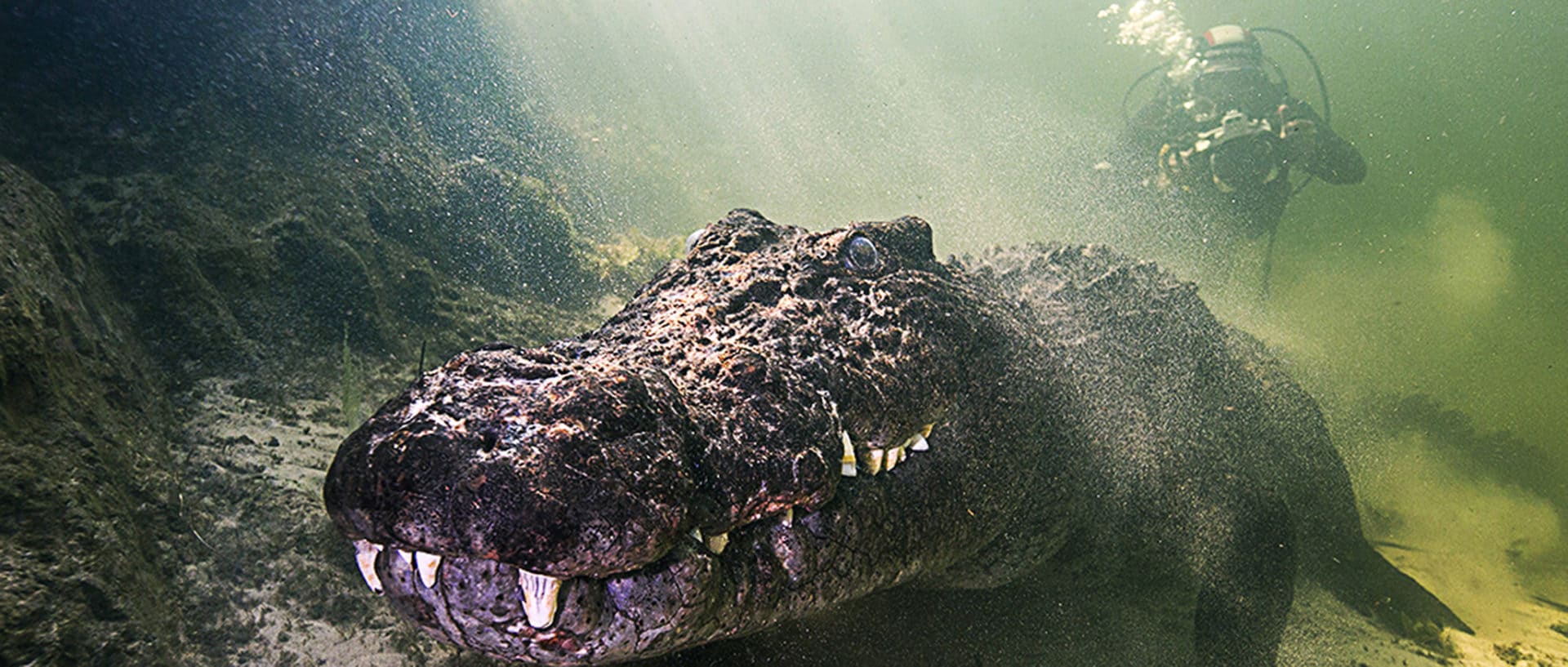 In late May the rains fall on the Angola heights and cause a huge surge of cold clean water to flush out the Okavango Delta. In early June we can get a secondary push from further cleaning up the Delta. The water that comes through is cold (14 – 17 degrees Celsius), which coupled with the cool ambient air temperature gives us the conditions to dive with the Nile Croc. This gives us a very small window of opportunity every year.
We've led dives here for the past 8 years including doing a National Geographic production called "Feed the Dragon"
You will be shown how to adapt your already honed diving skills to

Use the river current to cruise down the river with the correct body orientation .
How to enter and exit with the least amount of surface time.
Spot crocs in their natural environment

You will be given an in depth briefing prior to any dives
**Restricted to experienced divers only**
All activities will start at Maun Airport. You will be picked up at the airport and transported to Sepope to a Lodge call Swamp Stop. We will spend one night at Swamp Stop. The next morning we will have breakfast and then whilst we go "croc hunting" our baggage will be transported to our Safari Campsite on an island called Ikoga or White Landover Island, our operations center for the next 5 nights. The campsite will be equipped with individual one man dome tents that are en-suite. We will have a mess tent, for all meals as well as a charging tent for all your camera equipment
*Dates and pricing are subject to change without prior notice due to weather conditions, animal behavior, and currency fluctuation.
Day 1
Depart your home state to Johannesburg, South Africa
Day 2
Arrive Johannesburg and overnight at airport hotel
Day 3
Fly from Johannesburg to Maun, Botswana.
Transfer to accommodation, approx. 5hrs. road trip
First night will be at Swamp Stop.
Day 4 – Day 8
First early morning by boat, we dressed up and
equipped with camera and scuba. Luggage
transfered to the exclusive camp along the river.
Start 5 Days of extraordinary adventure in the
Okavango River with Nile Crocs.
Day 9
Depart the island by boat and than connect with our
vehicle, 5 hours road trip to Maun. Fly to
Johannesburg. Connect to your evening flight to
your next destination.
Temperature
Water 58 – 62°F (14 – 17°C)
Land 50 – 80°F (10 – 27°C)
Visibility
20 feet (5 meters)
Mobile Safari Camp with private tent
Included
6 nights at our safari camp accommodations
5 days of exclusive crocodile diving
Expedition leadership and photo assistance from Amos and Walter
All food and soft drinks
All air fills
Cylinder and weight belt
Transfers from airport to Sepopa
One night stay in Swamp Stop
Five nights at safari camp .
Boat hire for the 5 day diving
Medic and dive guide
Air medevac by helicopter in case of
emergency
Excluded
International and domestic flights including Charter flight in Botswana
Alcohol and soft drinks (soda)
Hotel overnight in Johannesburg
Dive gear
Personal charges such as laundry, telecommunication charges
Gratuities
Book flights to Maun, Botswana through Johannesburg. Plan to stay one night in Johannesburg. We will pick you up at the Maun airport to escort you to the safari camp (5 hours).
Nile crocodiles like to bask in the sun along riverbanks in the Okavango Delta. During June and July (Botswana's winter), the water is a chilly 55-62° F, and underwater visibility is about twenty feet. These huge reptiles spend many hours every day soaking up the heat from the sun's rays, but the moment a crocodile spots our boat, they dive seeking security in the water.
Cold water makes them lethargic and slow, and their poor underwater vision provides us with a great opportunity to photograph these heavily armored crocodilians with most powerful jaws bite, greater of the Great White shark. Taking advantage of the crocodile's habits, our days on the delta begin between 9-10 am so we can view basking crocodiles.
The moment the croc seeks refuge under water, we stop our boat approximately 100 yards away. Quickly donning scuba tanks over the 5 to 7mm wetsuits, we enter the water. Our descent is direct; we do not want to remain on the water's surface, known as the croc's "kill zone." The reptile is attracted to subjects on the water's surface, especially those that are silhouetted against the sun, so it is imperative that we descend quickly and spend as little time on the surface as possible so as not to look like a potential meal.
The current is often very strong and just like the crocodile does, we drift with the current and do not fight against it. We might need to dig into the sand bed with a hand or brace against the bottom with our knees just to try to stay in place. This can make an already difficult search even harder, all part of the adventure. The crocodile's body color and shape blends with the river's dark soil, especially near trees and papyrus reeds, making them challenging to locate. We move cautiously and quietly as we search.
We look for a line of jagged white teeth, since it is the most easily distinguishing characteristic of a croc as they hide in the shadows of the riverbank. They usually remain completely motionless, perfectly camouflaged in their environment with the exception of those gleaming, white teeth. Then we see them, but they probably don't see us. With thick nictitating membranes drawn over their eyes for protection, their vision underwater is limited and they won't notice our slow and stealthy approach.
The team leader carefully approaches with the guest remaining behind with the safety diver. When the "safe to approach" signal is given, the guest (perfect buoyancy is required for this adventure) moves side by side with the safety diver to a distance of no less than 12 inches. While they are not known to be aggressive underwater, it is wise to at least allow this minimum amount of space between their mouth and your port. in addition to boasting the most powerful jaws in the animal kingdom, crocodiles have sensors in their lower jaw that help them interpret spatial relationships to objects to compensate for their poor underwater vision; invading their but the moment a crocodile spots our boat, they dive seeking security in the water.
A mobile safari camp will be our home base for the week. Each guest will have their own private tent furnished with a bed complete with a comfortable mattress, pillows, fresh linens, and wool blankets. Attached to each tent is a shower and a seat toilet. Our dedicated safari crew will make sure warm water is available in your tent every morning for washing up, and each evening after we return from diving.
Our safari camp will have a generator that can be used to run refrigerators and lights and will also allow us to charge our computers and batteries. A separate tent will be set up as a charging station for all our gear. There will also be one large dining tent that opens up to a gorgeous view of the river. Please remember that we are in an extremely remote area, and a satellite phone will be the only way to stay in touch with the outside world should you need to do so. Anything that you might need and/or want during your time in the safari camp must be brought with you, because the nearest shopping center is about 500 miles away.
You can reserve now by either paying a 33% deposit through our online reservation system or by by mailing a check (Please see Payment Policy, Deposit, and Cancellation Information below — a 3.5% processing fee is applied to all online transactions)
If you'd prefer to mail a check to our office or arrange for a wire transfer, please get in touch with us via the Contact BigAnimals form below