Polar Bear Svalbard by Ship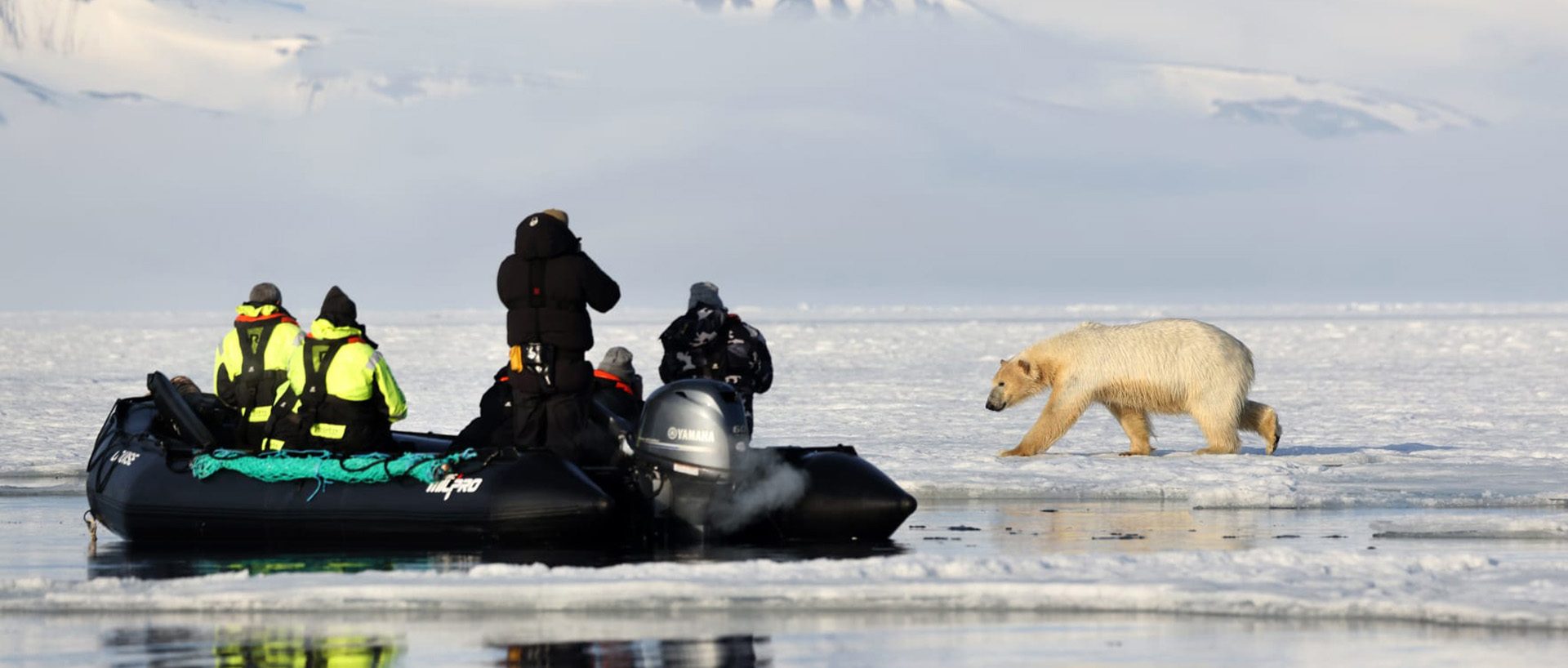 Polar Bear Svalbard by Ship
Additional information
| | |
| --- | --- |
| Dates (Polar Bear Cruise) | August 4 – 14, 2024 |
Dive into an extraordinary journey with acclaimed wildlife photographer, Amos Nachoum, in the enchanting and rugged wilderness of Svalbard. This Arctic landscape, a mesmerizing fusion of towering glaciers and untouched fjords, exists in a suspended moment where time seems to stand still, and the formidable Polar Bears roam as silent kings of this icy realm.
Our home during this exploration, the RV PolarXplorer, stands as a beacon of comfort in the stark landscape. Recently refurbished with sophistication in mind, this sturdy former research vessel offers cozy private suites and modern amenities. Its intentionally limited guest capacity guarantees you will have plenty of personal space on our journey, while the smaller ship will allow us to navigate to exclusive Arctic hideaways that are otherwise inaccessible to larger fleets.
As we weave through crystalline icebergs, we'll employ a pair of nimble Zodiacs. These vessels let us glide silently closer to the heart of the Arctic's spectacular wildlife tableau. Here, amidst a backdrop of vast expanses and dancing northern lights, you'll witness the intimate moments of polar bear mothers and their playful cubs, the commanding presence of hefty walruses, the elegant dives of whales, and the spirited frolic of young Arctic foxes.
Our adventure unfurls from the pulsing heart of Svalbard, the lively capital of Longyearbyen. From there, with Amos's seasoned guidance, you'll be equipped not just to observe but to narrate through your camera — tales of resilience, awe, and the untamed spirit of the Arctic and its wildlife.
Join Amos and embrace the allure of the Arctic, where nature's pristine splendor beckons, and let Amos guide you through a symphony of moments that will etch into your memory and heart forever.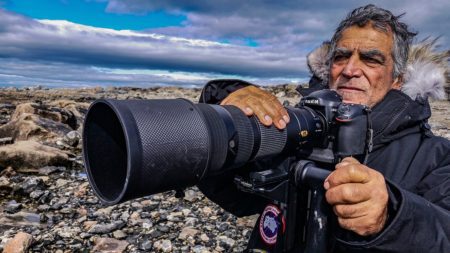 As an expedition guide, Amos is known for his meticulous planning and vast experience navigating challenging environments. He instills confidence in his team members, always prioritizing safety and respect for the natural world. His deep understanding of marine life and their habitats, coupled with his ability to anticipate and adapt to changing conditions, makes him an invaluable mentor to those fortunate to journey with him.
In essence, to embark on an expedition with Amos Nachoum is to learn from a seasoned explorer and master photographer, someone who has dedicated his life to understanding and showcasing the beauty of the world's most formidable marine life. His vast experience, deep respect for nature, and commitment to sharing his knowledge make him a guide any veteran explorer or photographer would be privileged to work with.
Day 1
The polar bear expedition to Svalbard begins in Longyearbyen, Svalbard. A place where snow-capped mountains reach high into the azure sky, and the Arctic Ocean stretches as far as the eye can see. Leaving the hustle and bustle of your daily life behind, you're now stepping into an entirely different world – a world where nature reigns supreme. You'll check into your hotel, where you can rest and prepare for the days ahead.
Day 2 – 10
In the morning,  you'll meet Amos for a tour of Longyearbyen, and then we'll board the PolarXplorer to begin our deep into the Arctic's labyrinth of inlets, icy waters, and the captivating world of the North Pole. As we navigate, our course will evolve, responding to the ever-shifting sea ice and the captivating presence of Arctic wildlife, notably the regal polar bear. Throughout this expedition, guided by the seasoned Amos Nachoum, we'll delve into the rich tapestry of Arctic fauna and the pristine landscapes enveloping us. At this prime time of year, we anticipate witnessing polar bear families and solitary males, possibly catching glimpses of Arctic Foxes nurturing their young. The intimate size of our vessel grants us unmatched access to secluded spots, offering an unparalleled Arctic experience.
Day 11

We begin our journey back to Longyearbyen. Our polar bear expedition to Svalbard has come to an end and it's time to part ways, each of us making our way to the airport, our minds full of memories, our cameras full of amazing photos.
Temperature
Day 23 – 77°F (-5 – 25°C)
Night -4 to -40°F (-20 to -40°C)