Galapagos — Scuba and Land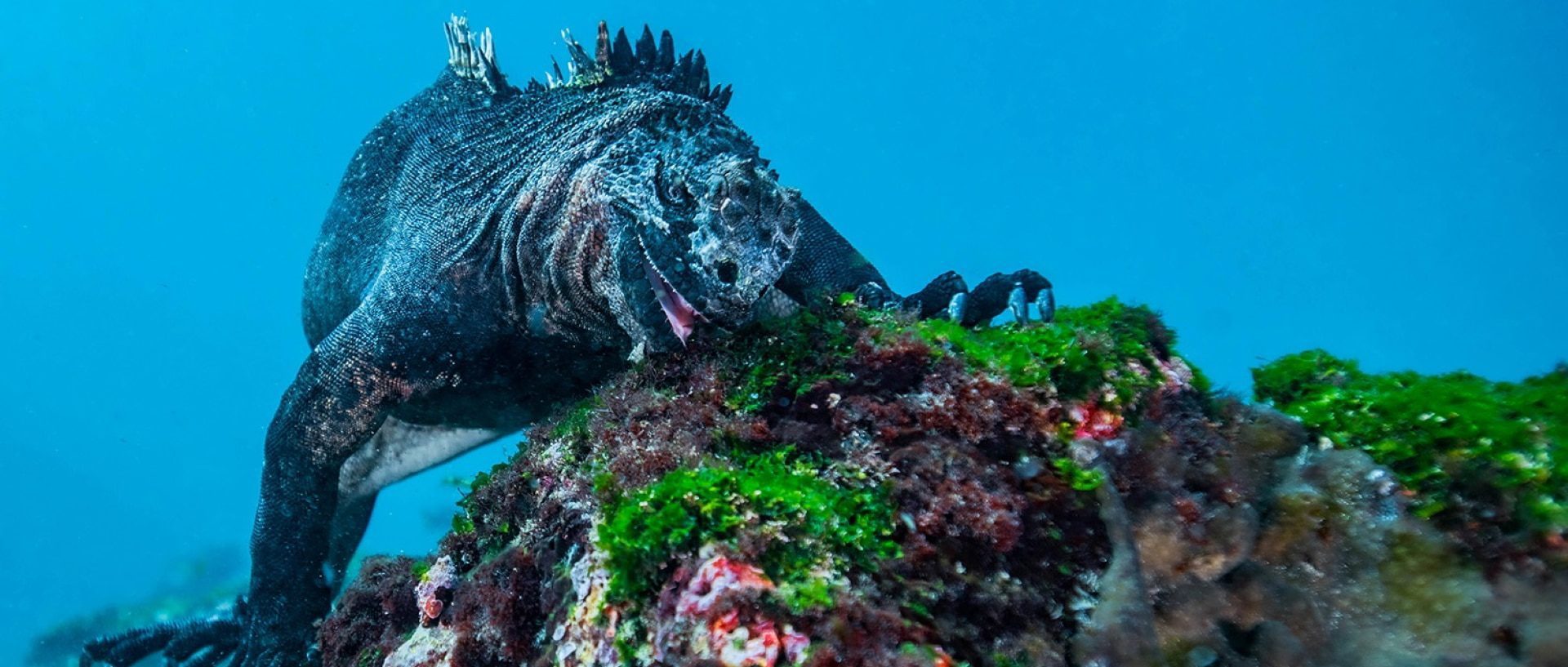 Galapagos — Scuba and Land
The average trip to Galapagos forces you to choose between land and sea, but if you join us on this unique Big Animals expedition to one of the most significant UNESCO World Heritage Sites on Earth, then you will get to experience the best of both worlds. We make this possible for you through a strong collaborative relationship with the most knowledgeable team on the islands guided by the steady and innovative leadership of the incomparable Fiddi Angermeyer. His family members were some of the first colonizers of the islands, and he has lived on Galapagos his entire life. There is no one more intimately familiar with these islands both topside and underwater than Fiddi, and he will be accompanying us to make sure we have a truly epic voyage.
*Dates and pricing are subject to change without prior notice due to weather conditions, animal behavior, and currency fluctuation.
This archipelago and its many volcanic islands traversing both sides of the equator are all impacted by three powerful and opposing currents creating the unique and wondrous laboratory of life both on land and underwater that is Galapagos. The islands north of the equator are affected by the warm Panama Current, the islands below it are shaped by the cold Humboldt Current arriving from Antarctica, and the western islands feel the effects of the Western Pacific Current.
Each dive is an adrenaline rush filled with photo opportunities and our two weeks of diving will be fun and filled with action. This is the peak time to witness a phenomenal parade of ocean giants including large whale sharks, hammerheads schooling in the hundreds, Galapagos sharks, manta and mobula rays, yellow fin tuna chasing mackerel bait balls, shoals of Pacific barracuda, dolphins, and orca. Of course this is not Sea World and no sightings are guaranteed, therefore the more time we spend underwater the greater our chances to witness what Darwin missed.
I can already hear the exciting chatter among you about the dives, the exchange of encounters. I can see it in the smiles on your faces and the sparks in your eyes. You did it! Once on board, hot showers are ready on deck as you take off your wetsuit and the crew hands you a toasty towel and some hot chocolate or tea to warm you up after your efforts.
Since there is much to experience on land and underwater in the Galapagos archipelago, we have secured special permission for an extended charter of 14 days. These are unique dual exploration activities that only our vessel can provide.  Having two weeks to explore Galapagos is a rarity, but one that I feel is necessary if we are to give ourselves enough time to experience the best the islands have to offer. Weather and currents can be unpredictable, so it is ideal to have the scheduling flexibility provided by this extended charter. The special permit we obtained will allow us seven or eight days with three dives a day to alternate between diving at Darwin and Wolf Island, the Mecca of big animal encounters. Not only will this unique itinerary let us enjoy the thrill of these remote islands to the north, but it will also give us the chance to explore the western islands of Fernandina and Isabella to capture the marvelous sights of Mola mola off Punta Vicenta Roca, as well as the prehistoric marine iguanas feeding on algae underwater daily at Tagos Cove. We will also make landings to walk among the unique terrestrial wildlife that grace and characterize Galapagos.
To best provide us with safety on the high seas and comfortable cruising, I chartered the M/Y Passion, a luxurious 154-foot private yacht equipped with 12 roomy guest cabins, an enjoyable interior setting, large diving area and ample space for camera gear. It has been designed to reduce environmental impact on the islands and give you the most intimate, awe-inspiring Galapagos experience imaginable. In addition to the palatial dimensions of the vessel, the food is nothing short of gourmet, all rooms are equipped with private bathrooms and air-conditioning, and the panoramic sky lounge and bar is the perfect setting for discussing the day's dives. Two trained naturalist dive guides will be onboard, and there will be two Zodiacs to take us in and out of the water and allow us to land on the islands.
Our incredible vessel is owned and operated by Fiddi Angermeyer, a master craftsman and keen seafarer born on the islands in the 50s. Fiddi's mother, Carmen, came to the Galapagos with her parents in 1934 to escape political unrest in Germany. Fiddi's father, Fritz, arrived on Galapagos in 1937 with his three brothers abandoning a turbulent Europe. The brothers began their journey from Germany aboard the Marie, a boat their parents bought them with money from the sale of their family home in Hamburg. The Angermeyers settled on Santa Cruz Island and hunted, fished, and farmed to survive. Fiddi was born there in 1952 and his passion for sailing was cultivated by his father, whom he built boats with as a young boy. In the early sixties, the family began using their boats to show the islands to scientists who visited the archipelago, and thus began the tourist activities of the Angermeyers. There is still no better luxury tourism operator in Galapagos, and this is why Big Animals will always choose to travel with Fiddi and his amazing team.
There is little I can add to what Charles Darwin has already brought to light and to our knowledge of evolution, but he was not a diver and he didn't get to see what lives beneath the waves. To stand in the very place where Darwin formulated his theory of evolution, and to photograph the descendants of the finches whose beaks led to his discovery, is nothing short of revelatory. I'm certain he would have been absolutely stunned by the diversity of marine life in this truly incredible part of our planet. This Big Animals expedition is an opportunity to contribute to the global knowledge base while also adding to our personal experiences, image collections and future educational presentations to be shared with friends and colleagues.
Day 1 Santa Cruz

Hike: Giant Tortoises in natural setting, lava tube, only chance for shopping apart from airport

Day 2 Floreana

AM Hike: Sea lions, Galapagos flamingos and other lagoon birds, blue footed boobies
AM Dive: Check out dive
PM Dive: Easy dive with playful sea lions and sea turtles
PM Hike: Very short hike to continue tradition started in 1793

Day 3 West Isabela / Fernandina

AM Hike: Potential whale  watching while motoring to the place. Snorkelling only if conditions allow. Land iguanas and giant tortoises in the wild, Galapagos hawks, penguins, cormorants.

PM Snorkeling: marine iguanas
PM Hike: marine iguanas, sea lions, hawks, flightless cormorants & penguins.

Day 4 Fernandina / North west Isabela

AM Dive: 15°C dive. Marine Iguanas, sea lions, harlequin wrasses, Dusky chops, etc.
PM Dive: 15°C dive. Mola mola, sea turtles, blunthead sharks, sea horses
PM Zodiac ride: Amazing landscape, Noddy terns, penguins, fur seals, sea turtles, occasionally Orca.

Day 5, 6, 7, 8 Wolf Island

AM & PM Diving: Several dive sites with one thing in common: amazing diving with big animals. Schooling hammerheads, Galapagos sharks, silky sharks, dolphins, rays, etc.

Day 9, 10, 11 Darwin Island

AM & PM Diving: The Arch at Darwin is arguably one of the best dive sites in the world. Good for hammerheads, Galapagos, silky and tiger sharks. It is also Whale shark season. Dolphins, mantas, yellow fin tuna are a common sight.

Day 12 East Isabela / Santiago Island

AM Dive: Good place for manta rays, schooling hammerheads, pacific barracuda. Occasionally marlins and/or Orca
PM Hike: Great place for landscape, marine iguanas, land iguanas, coastal birds, sea lions, fur seals, Galapagos hawks and human history

Day 13 Marchena Island / Genovesa Island

AM Dive: The Fish Arena is a dive site thick with tropical fish with the frequent visit of hammerheads, dolphins and false killer whales
PM Hike: This is the largest colony of red footed boobies in the world, with thousands of Nazca boobies, Great frigate birds, Storm petrels and short eared owls. Amazing hike.

Day 14 Santiago Island / Seymour

AM Dive: A great dive site, good for sea lions, barracuda, sea turtles, spotted eagle rays, white tipped reef sharks, black coral and macro diving
AM Hike: The hike is to see one of the most iconic landscapes in the world: The Pinnacle rock
PM Hike: This is the largest colony of red footed boobies in the world, with thousands of Nazca boobies, Great frigate birds, Storm petrels and short eared owls. Amazing hike.

Day 15 Santa Cruz / Baltra

AM Zodiac Ride: Juvenile sharks, rays, pelicans, blue footed boobies, herons, mangroves
Departure
Temperature
Water 54 – 62°F (12 – 17°C)
Land 60+°F (15+°C)
Visibility
60 – 100 feet (20 – 30 meters)
Included
13 Days aboard boat
2 Zodiacs for diving operation
Shared accommodations
All meals
All diving services
Tanks, weight and belts
Expedition leader
Excluded
International and domestic flights
Nitox for 2 weeks – $300
2 Night hotel stay in Guayaquil
Park and Visa fee – about $200
Tourist Card – $20
Insurance (mandatory you own travel, health, and diving with evacuation insurance
Single occupancy
Unused part of the itinerary
Personal charges such as laundry, fishing, or telecommunication charges
Gratuities
Book flights to Guayaquil and stay overnight in a hotel. Fly the next day to St. Cristobal
You can reserve now by either paying a 33% deposit through our online reservation system or by by mailing a check (Please see Payment Policy, Deposit, and Cancellation Information below — a 3.5% processing fee is applied to all online transactions)
If you'd prefer to mail a check to our office or arrange for a wire transfer, please get in touch with us via the Contact BigAnimals form below
* 3.5% processing fee applied to all online transactions — All prices $USD 
*Dates and pricing are subject to change without prior notice due to weather conditions, animal behavior, and currency fluctuation.
Please mail deposit check to:
Big Animals LLC
189 Evans Avenue, Suite A
Pacific Grove, CA 93950 USA
Payment policy and deposit
When we receive your deposit, we will send you a comprehensive and detailed trip preparation document about the experience and the destination. All trip costs are subject to change without prior notice until your reservation is confirmed. All trips require you carry trip, health, and dive (if applicable) insurance. This information as well as your passport photo will be requested after you place your deposit.
Full payment is due no later than 90 days before departure. We reserve the right to sell any space that is not paid in full by 60 days before departure.