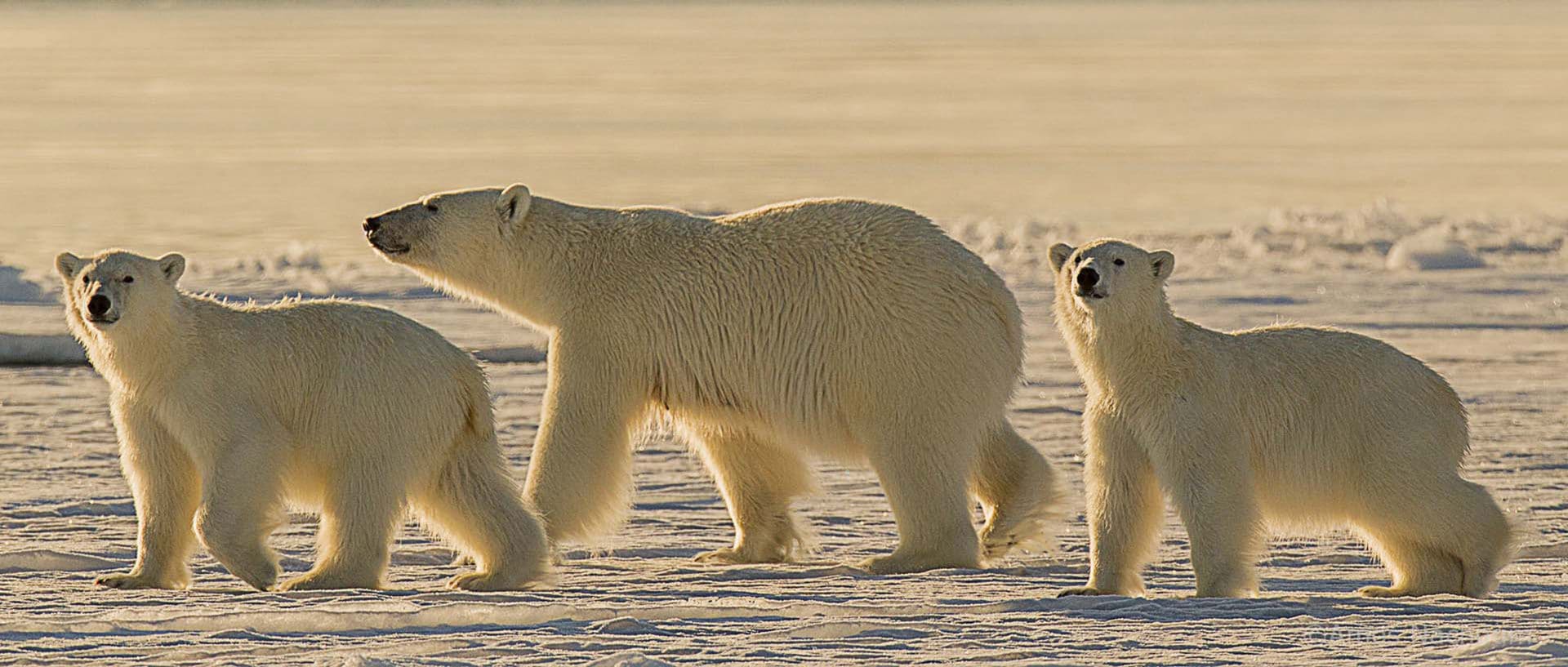 We go to Svalbard later in the year for two reasons. First, it increases the likelihood and frequency that we'll encounter the polar bears, and second, it gives us more daylight and shooting time.
Having learned from past experiences, We've also added a new upgrade to our expedition this year. We're going to have two local guides. One of the guides will stay with our group, and the other guide will track the polar bears at night while we're sleeping. This will ensure that when we're ready to go in the morning, we'll know where to find the bears.
As an added bonus, we will have the tundra all to ourselves, since we have the only permit available for the weeks we're visiting — to protect the bears and their cubs, a permit is required to visit the section that's closed to the public, and is available only to certified teams of researchers and qualified media.
This journey will try your patience, test your endurance, and show you a world of unmatched beauty and frozen splendor that you couldn't possibly be prepared to understand. Join BigAnimals at the top of the world to walk in the footsteps of polar bears and discover a place more spectacular than anything even in your wildest dreams.
*Dates and pricing are subject to change without prior notice due to weather conditions, animal behavior, and currency fluctuation.
Svalbard, Norway — Special Permit to enter No-Tourism Zone
Photographing polar bear feeding and nursing
Snowmobiling
Day 1
Fly into Longyearbyen, Svalbard and check in to to designated hotel
Day 2
Early morning move to "staging area." Check all our cold weather gear. Take a fast course in snowmobile driving; pack our personal, cameras and team gear, fuel, and food on sleds. There are two main areas for shadowing and filming polar Bear. Both areas are strictly controlled, and permit required. The selection of which area will be prime for photography to be decided at the time of our arrival. Based on the selected zone of operation our accommodation will be at Russian hotel style, equal to half star (heated, no water and limited food).
Days 3–6
We shall go for 10 to 14 hours daily, in search and shadowing female with her one or two cubs. We stop on the way for quick camping style meals and hot tea, while we continue searching. We will do it few times a day till we have our moment.
Day 7
We start making our way back to Longyearbyen and return our borrowed clothing gear and snowmobile. After a good shower in hot water, we meet for farewell dinner
Day 8
Transfer according to your flight to airport for you next destination.
Temperature
Day 23 – 77°F (-5 – 25°C)
Night -4 – -40°F (-20 – -40°C)
Included
8 days of travel
6 days on the ice
All accommodations including 2 nights at 5 star hotel in Longyearbyen, double occupancy (first and last day)
Charging station (camera and computer)
Driving equipment (each person issued a private snow mobile)
All extreme weather clothing, protective overall outer shell, boots, helmet, driving goggles, gloves, extra camera cases and padding
All meals
Expedition leader and expert guide
Excluded
International and domestic flights
Alcohol and soft drinks (soda)
Overweight luggage fees
Single occupancy
Unused part of the itinerary
Personal charges such as laundry, or telecommunication charges
Gratuities
Amos has known and worked closely with this particular outfitter in Svalbard for the last twenty years. They are the absolute best at what they do. They will make sure you are fully geared to handle just about anything the Arctic environment could throw at you including providing each guest with a personal snowmobile, helmet, gloves, goggles, boots, water and wind-proof survival suit, and even survival training.
These guides have an unprecedented level of expertise and are highly sought after for high stakes shooting assignments and costly productions.
There is no better way to observe polar bears hunting in their natural environment of frozen snow and ice than with this Big Animals expedition to our polar north.
There is only space for three guests and we like to keep it this way for a variety of reasons. Overcrowding is a chronic problem for photographers looking to capture natural animal behaviors and unique images. Our small expedition size ensures that will never be an issue. It also means that each guest will have a uniquely personal experience and the absolute best chances possible to capture rare images and footage of polar bears hunting.
Most importantly, a small group is far less likely to disturb the bears in comparison to a large one. This is critical for the sustainability of the activity. Because we must not alter their environment or change their behavior in any way, we will remain a minimum of 200 feet away from the bears at all times.
Accommodations are not for the faint of heart and can be rather rustic at times. Since we will be traveling across a gigantic frozen fjord, our lodging each night will depend on where the bears are and how far we followed them. In northern Svalbard, we will be staying in a deserted Russian coal-mining town in an austere cement building with minimal running water and simple beds. In the south, we will overnight in spartan "hunter's huts" that are small, chilly, a bit smelly, and require a warm sleeping bag.
We spend 8-14 hours a day out on the ice and carry with us absolutely everything we could possibly need such as food, drinks, communication, first aid supplies, and more. The late afternoon and early evening light is the most beautiful and is typically when the bears are out hunting because it's cooler and the sun is lower. These "golden hours" are flawless for photography and produce the most spectacular images imaginable.
In this incredibly harsh yet surprisingly fragile northern polar region of our planet, be prepared to partake in an adventure that will forever change your perspective on travel. This journey will try your patience, test your endurance, and show you a world of unmatched beauty and frozen splendor that you couldn't possibly be prepared to understand.
You can reserve now by either paying a 33% deposit through our online reservation system or by by mailing a check (Please see Payment Policy, Deposit, and Cancellation Information below — a 3.5% processing fee is applied to all online transactions)
If you'd prefer to mail a check to our office or arrange for a wire transfer, please get in touch with us via the Contact BigAnimals form below