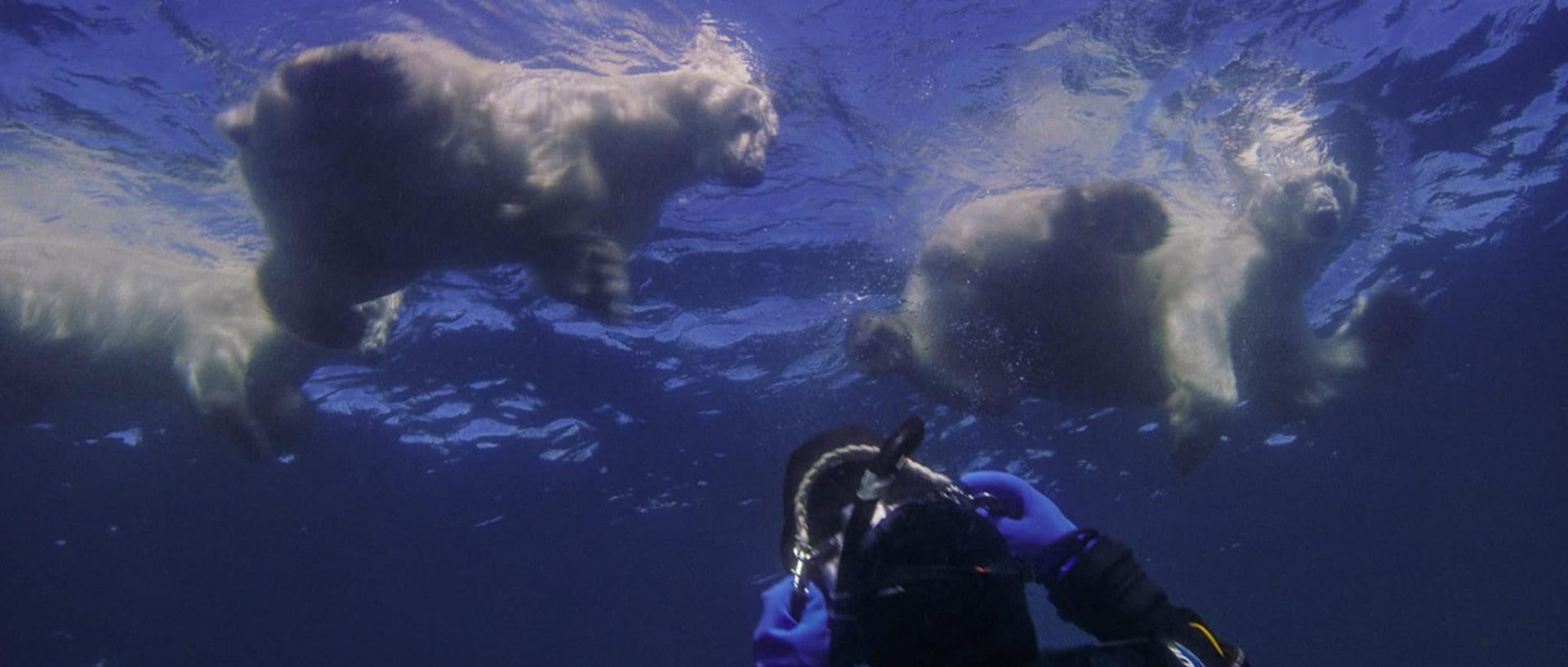 Peak Season:
July — August
Number of people that have walked on the moon: 12
Number of people that have been diving with polar bears: 5
Could you see yourself joining this epic BigAnimals Expedition to be the sixth?
Are you ready to join this BigAnimals Expedition into the aquatic life of the polar bear?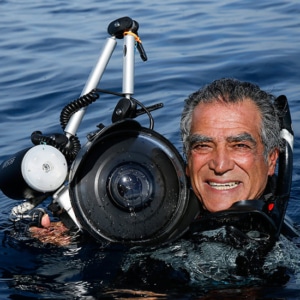 Amos Nachoum is a distinguished figure in wildlife and underwater photography, with a remarkable career spanning over four decades. His unique ability to blend exploration and artistry has captured the attention of audiences worldwide, with his work being prominently featured in esteemed publications such as National Geographic and The New York Times.
His talents have earned him numerous accolades, including the prestigious BBC Wildlife Photographer of the Year award, received twice in recognition of his unparalleled skill and commitment. Amos is the founder of Big Animals xpeditions, inviting adventurers to join him on extraordinary journeys to witness the majesty of wildlife in both marine and terrestrial environments.
His 2019 documentary, "Picture of His Life," highlights his relentless pursuit of excellence and undying passion for wildlife photography. It chronicles his quest to photograph a swimming polar bear in the Canadian Arctic, showcasing his ability to connect with nature's most magnificent creatures.
Joining Amos on an expedition transcends the ordinary adventure; it is a profound learning experience, an opportunity to immerse oneself in the beauty of the natural world, under the guidance of a master photographer. His work serves as a powerful reminder of the importance of preserving the planet's incredible biodiversity. Amos Nachoum's expeditions are a celebration of wildlife, a journey of discovery and appreciation, from the depths of the oceans to the far reaches of the mountains.
Day 1
Fly to Winnipeg, Canada and transfer to our designated hotel
Day 2
Early morning fly to the remote settlement on Baffin Island, Baker Lake, our first staging area. Review and check all diving and cold weather gear. Pack personal, cameras and team gear, fuel, compressor, tanks, weight and generator.
Day 3
With favorable weather conditions, we prepare two charter planes. We load fuel, 2,200 gallon on one plane and gear on the second plane with the team on a three hour flight to an isolated and remote location. Upon arrival, we coordinate with the Inuit team arriving from their village some 400 miles away by two vessels. With the planes landing on a dirt strip, we unload all the gear and fuel and reload the gear on board the Inuit vessel transferring us to the selected beach our base of operation and tent accommodation.
Days 4-9
For the next six days, weather allowing, the Inuit guides will decide if and when we shall go to sea in search for polar bear family swimming. At this time of the year, most of the ice is already gone. Bears in this remote location are move between islands in search of food other than seals such as birds and eggs. After earthy breakfasts and strong coffee from the Inuit chef, we prepare dive and camera gear, load the vessel and search for polar bear family swimming. On every dive, only one guest will be in the water while Adam and Amos guide, protect and film the guest in the water. Guests alternate the order of getting in the water.
Day 10
We unpack our camp, pack all gear, collect our fuel drums, and leave nothing behind. We leave the place as we find it with limited impact on the bear and the pristine environment. We load the vessel and transfer back to the dirt strip where we previously landed. When the two charter planes arrive, we load the fuel drums and gear, say goodbye and thank the dedicated Inuit that brought us here and guided us safely into this extreme adventure. We then arrive at Bakers Lake, unload the planes, take hot showers and prepare for our flight to mainland Canada.
Day 11
Transfer to the airport with our personal gear on the flight to Winnipeg. Enjoy a farewell dinner and spend the night.
Day 12
Transfer to airport according to flight schedules
Temperature
Day 23 – 50°F (-5 – 10°C)
Night 14 – -4°F (-10 – -20°C)
Visibility
50 – 100 feet (15 – 15 meters)
4 hotels nights on the way ot the staging area
Camping
6 days and 7 nights on remote beach
4 charter flights
4 hotel nights on the way to the staging area
Charging station (camera and computer)
Diving equipment (compressor, tanks, and weights)
5 Inuit guides for support
Two vessels
Expedition leaders
International and domestic flights
Overweight baggage fees
Alcohol and soft drinks (soda)
Additional cost incurred due to personal travel arrangements
Personal charges such as laundry, fishing, or telecommunication charges
Gratuities
What more can We tell you?
Our dedicated Inuit team facilitates transportation, food, sleeping arrangements, and more. They ensure we have everything we need to sustain ourselves in this harsh environment. We search for polar bears by boat all day. The preferred times to be in the water with them are around sunrise and sunset because of the superior photographic quality of low angle light.
We will eat salmon, caribou, reindeer, and any animals hunted by our Inuit guides and stay in minimalistic tents with mattresses and sleeping bags.
Amos and Adam have worked for years to create a safe environment for this unique encounter and they will be in the water with our guests at all times. In this incredibly harsh yet surprisingly fragile northern polar region of our planet, we offer the opportunity to be part of an experience more exclusive than walking on the moon. This journey will try your patience, test your endurance, and show you the Arctic in a way few humans have experienced.
Logistically, this is the most sophisticated operation we have run in the last 35 years. The intricacies of this challenging expedition rival the complexities of the security protocols for Area 51. The expedition location is extremely remote. We must travel 700 miles to even reach the desired region. There is nowhere to obtain the fuel we need throughout the journey, so all 2,200 gallons must be flown out in barrels that will be returned to their place of origin once they are empty. The planes are small. Consequently, we charter two of them, one to carry fuel and the other to carry guests and their gear.
It is of utmost importance to us throughout this trip that we conduct ourselves in the most sustainable way possible. No trace of our expedition will be left behind and we interact with the wildlife in the most respectful of ways to make sure our actions never alter the animal's natural behavior.
Once we have arrived at our destination, we begin our transformation into a team of adventurers setting out together in search of an unprecedented experience in the wilderness of our polar north. There is only space for two guests. They will be sharing their time in the Arctic
with two extremely committed and experienced trip leaders, Amos Nachoum and Adam Ravetch, along with an incredibly knowledgeable ground team of Inuit guides and hunters.