Leopard Seals and Orcas in Antarctica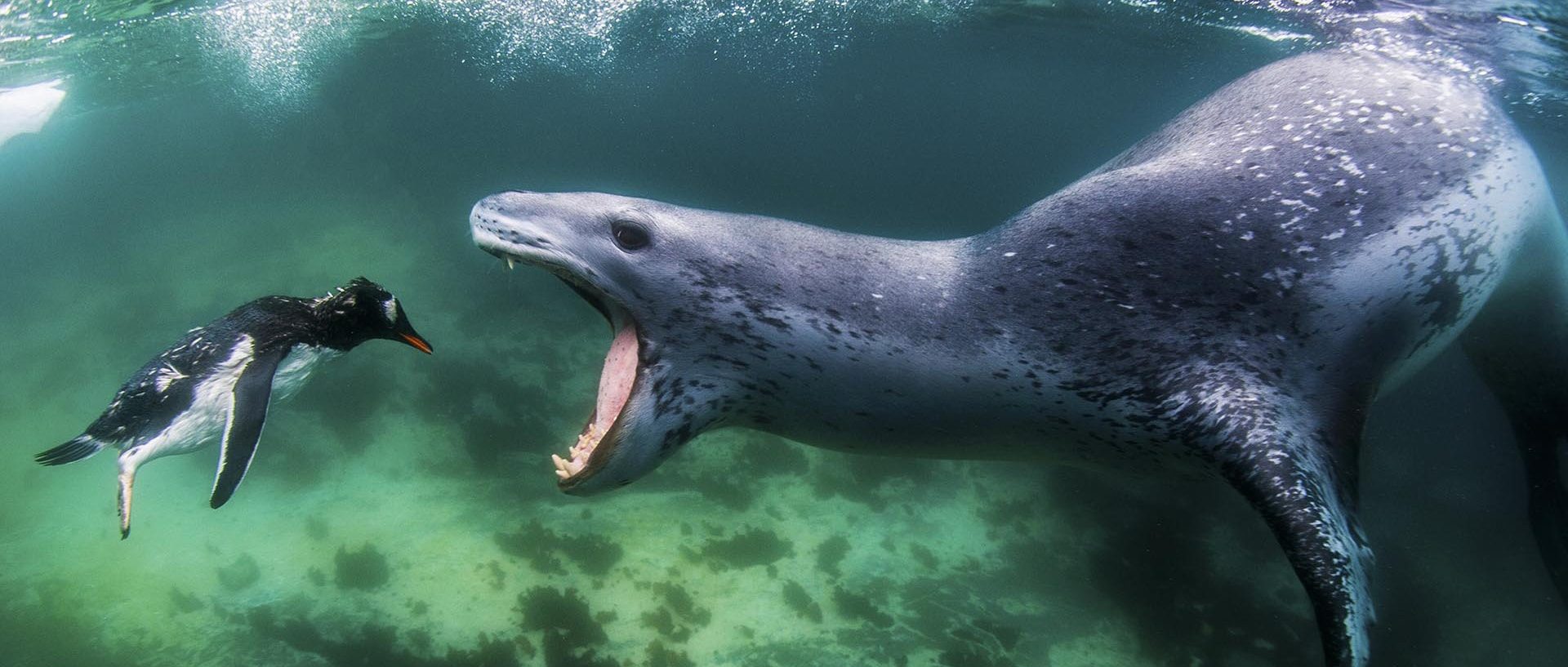 Leopard Seals and Orcas in Antarctica
Peak Season:
January – February
Antarctica's glacial beauty of towering snow-capped mountains with glistening ice formations ranging from blue to white, makes this expedition to the seventh continent one of life's great experiences.
Aided by technical support onboard the Hans Hansson, Amos conducts dramatic open water dives along the walls of grounded icebergs. We explore to find the Leopard seals hunting ground in uncharted inlets and bays. Our chances increase dramatically since we are allowed and able to stay for many days at any promising location. Since the small vessel has very minimal impact on the environment, we are free to move everywhere. We also invest a few days in search of Orcas, following them to see if we are lucky to witness this highly-capable species execute their signature hunting maneuvers.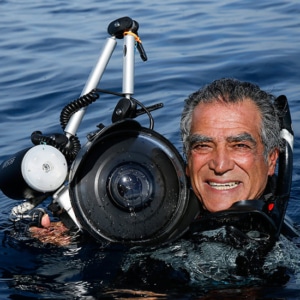 Amos Nachoum is a distinguished figure in wildlife and underwater photography, with a remarkable career spanning over four decades. His unique ability to blend exploration and artistry has captured the attention of audiences worldwide, with his work being prominently featured in esteemed publications such as National Geographic and The New York Times.
His talents have earned him numerous accolades, including the prestigious BBC Wildlife Photographer of the Year award, received twice in recognition of his unparalleled skill and commitment. Amos is the founder of Big Animals xpeditions, inviting adventurers to join him on extraordinary journeys to witness the majesty of wildlife in both marine and terrestrial environments.
His 2019 documentary, "Picture of His Life," highlights his relentless pursuit of excellence and undying passion for wildlife photography. It chronicles his quest to photograph a swimming polar bear in the Canadian Arctic, showcasing his ability to connect with nature's most magnificent creatures.
Joining Amos on an expedition transcends the ordinary adventure; it is a profound learning experience, an opportunity to immerse oneself in the beauty of the natural world, under the guidance of a master photographer. His work serves as a powerful reminder of the importance of preserving the planet's incredible biodiversity. Amos Nachoum's expeditions are a celebration of wildlife, a journey of discovery and appreciation, from the depths of the oceans to the far reaches of the mountains.
February 22, 2021
Group assembles in Puntarenas Chile, recommended to arrive one day earlier
February 23
We fly to Antarctica, private 2 1/2 hour flight to King George Island, including all our luggage, no extra fee all included. Upon arrival, we board the vessel and start our cruising and diving
February 23 – March 10
See Below for Destination
March 10 or 11
Depending on the weather pattern, we leave and start cruising back to Port Williams, Chile.
On arrival we transfer for a flight to Puntarenas and then stay overnight at local hotel
March 15
Depart Chile to your next destination
Temperature
Water 28 – 34°F (-2 – -1°C)
Land 10 – 40°F (-12 – 4°C)
Visibility
100+ feet (30+ meters)
85′ Live-aboard expedition dive boat, Hans Hansson
21 days and 20 nights of travel aboard Hans Hanson
Airfare from Punta Arenas, Chile to King George Island, Antarctica
All shore excursions and activities on zodiacs
All diving services with tanks and weights provided
Photography presentation and instruction
Miscellaneous service taxes and port charges
All meals
Expedition leader
International and domestic flights
Overnight lodging in Ushuaia, Argentina
Alcohol and soft drinks (soda)
Land travel arrangements
Passport and visa expenses
Government arrival and departure taxes
Additional costs incurred due to independent travel arrangements
Baggage, cancellation, and personal insurance (all strongly recommended)
Excess baggage charges on all flights
Single occupancy
Unused part of the itinerary
Personal charges such as laundry, fishing, or telecommunication charges
Gratuities (customary for stewards and service personnel; we will provide guidelines)
What more can We tell you?
Antarctica's glacial beauty of towering snow-capped mountains with glistening ice formations ranging from blue to white, makes this expedition to the 7th continent one of life's great experiences. Its geography is topped by the unique behavior of millions of penguins consisting primarily of four species: adélie, gentoo, chinstrap, and the less commonly sighted emperor penguins. These flightless birds are challenged throughout their life by Antarctica's frigid elements and the imminent danger of one voracious predator, the leopard seal.
Our Antarctica expedition is specifically timed to coincide with the fledging of penguin chicks when these young birds first venture out from the warm comfort under their parents' chests. It is a period when the chicks begin to explore the frigid water to learn swimming and feeding skills. Unlike their clumsy waddle on land, penguins are adept swimmers. Once they depart, food deprived adults venture into open water to hunt fish for themselves and their chicks.
The timing is perfect to observe one of Antarctica's only predators, the leopard seal, feed on penguins. Posing motionless in shallow bay, almost appearing like a harmless rock, the spotted seals wait patiently in shallow water for the opportunity to devour the young penguins. We only recently discovered that the leopard seal does not solely dominate the food chain.
Trinity Island: gentoo penguins
Enterprise: shipwreck, whale bones
Whilelmina Bay: humpback, Killer whales
Guerlache/Neumayer: killer whales, humpback
Port Lokcroy, Rosenthal Islands: leopard seals eating chinstrap penguins
Rosenthal
Pitt Island, Booth Island, Port Charcot, leopard seals feeding on gentoo penguins
Lemaire Channel, Paradise Bay, Errera Channel, Cuverville: leopard seals feeding on gentoo penguins, crabeater seals
Guerlache Stait, tracking Killer Whales
Fournier Bay: humpback feeding — bubble netting, lunge feeding
Two Hummock or Davis Island, Bransfield Strait
Deception and South Shetland
Pleneau Bay: iceberg graveyard
Peterman Island: leopard seal feeding and penguins swimming
Elephant Island: checkout dive. Depending on which way the weather is going there are good sites all around Elephant island. Do as much zodiac / snorkeling as possible after the dive
Yankee Harbor: (50/50 for diving but very nice place for walking in wildlife. leopard seals feeding on penguins.  Long sand pit for walking long distances.
Cierva Cove: very good for diving, Leopard Seal predation. Penguins
Gerlache Passage: very good for Orcas and Whales
Wilhermina Bay:  many whales
Foyn Harbour/Enterprise Island: shipwreck very nice for diving/snorkeling. Kayaking.
Port Lockroy: very good for leopard seal feeding on penguins, diving with whale bones, visit to the post office/souvenir store/museum
Dorian Cove: leopard seals feeding on penguins, visit to 2 historic huts. Nice for walking long distances.
Peltier channel: leopard seals and beautiful views.
Cuverville Island: penguins and diving with Icebergs — this place is beautiful full of icebergs. A lot of action happens here, including whales swimming in the bay, weddel seals, crabeater seals, leopard seals. Penguins swimming everywhere. Good place for snorkeling and diving, very protected, very clear waters, nice beach, nice little island in the middle of the bay. Both shallow and deep waters for diving
Paradise Bay: very good for whales. Amazing views and landscapes.
Pleneau: good for penguins
Graveyard of the Icebergs: Beautiful place for photography
Port Charcot: penguin colony
Lemaire Channel: good for Orcas, landscape, amazing views of narrow channel
Deception Island Baily Head: if weather is good for landing on beach, visit to chinstrap penguin colony. Inside the volcano visit to Whalers Bay, hot springs.
Neumayer channel: nice views and landscapes, whales.