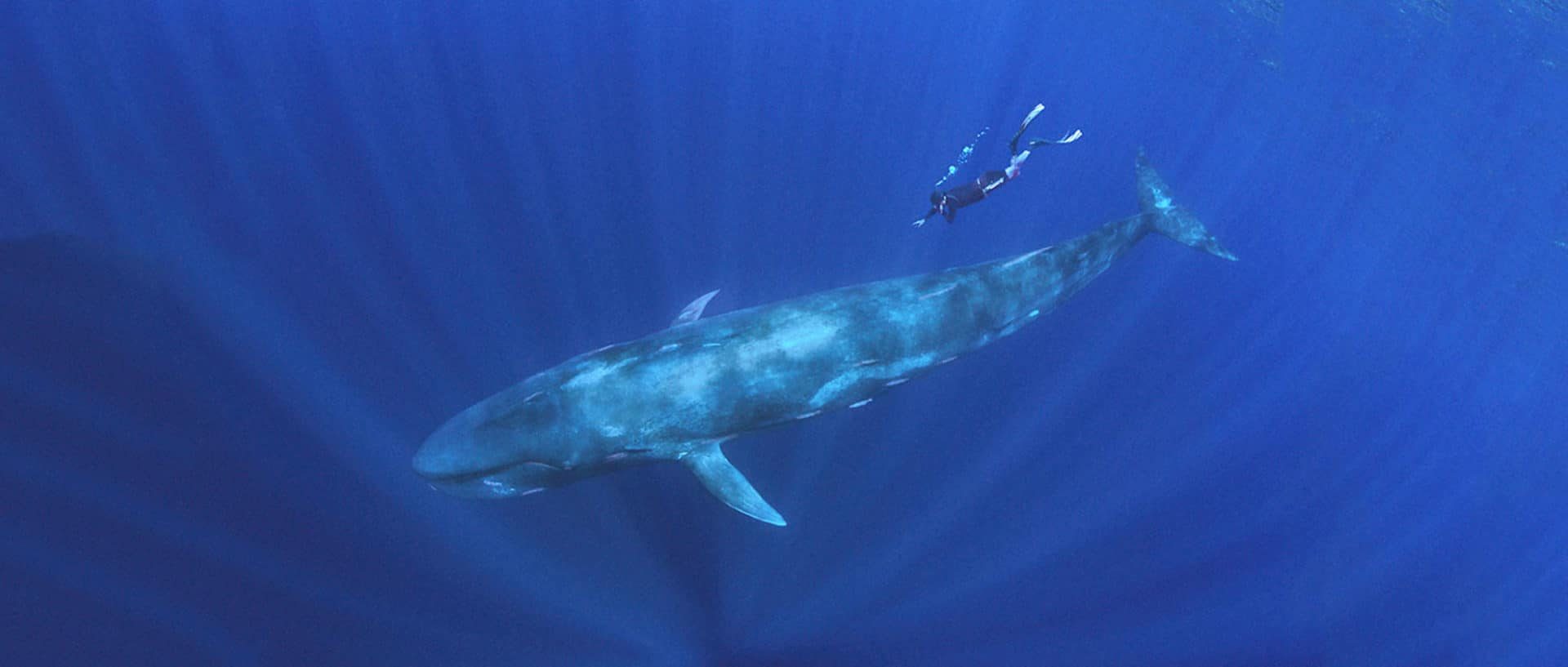 Peak Season:
Spring – Fall
In the warm blue waters off the southern tip of Sri Lanka where the visibility is an astonishing 100 feet of marine paradise with ocean temps well into the 80s, we will have the privilege of interacting with these magnificent whales in a way few humans will ever truly understand.
The pygmy blue whale, a subspecies of the blue whale, inhabits Sri Lanka's Indian Ocean and the southern Pacific Ocean west of Chile. At 60 -75 feet long it can hardly be called a pygmy, but this particular variety of blue whale differs from the "true" blue whale in a few physical characteristics. They have broader and shorter baleen plates, a proportionately longer body in front of their dorsal fin, and a large head relative to its body size; the tail is also a bit shorter.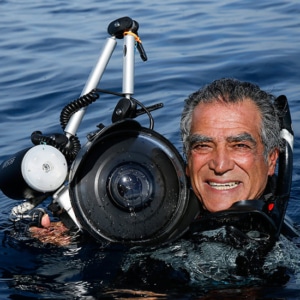 Amos Nachoum is a distinguished figure in wildlife and underwater photography, with a remarkable career spanning over four decades. His unique ability to blend exploration and artistry has captured the attention of audiences worldwide, with his work being prominently featured in esteemed publications such as National Geographic and The New York Times.
His talents have earned him numerous accolades, including the prestigious BBC Wildlife Photographer of the Year award, received twice in recognition of his unparalleled skill and commitment. Amos is the founder of Big Animals xpeditions, inviting adventurers to join him on extraordinary journeys to witness the majesty of wildlife in both marine and terrestrial environments.
His 2019 documentary, "Picture of His Life," highlights his relentless pursuit of excellence and undying passion for wildlife photography. It chronicles his quest to photograph a swimming polar bear in the Canadian Arctic, showcasing his ability to connect with nature's most magnificent creatures.
Joining Amos on an expedition transcends the ordinary adventure; it is a profound learning experience, an opportunity to immerse oneself in the beauty of the natural world, under the guidance of a master photographer. His work serves as a powerful reminder of the importance of preserving the planet's incredible biodiversity. Amos Nachoum's expeditions are a celebration of wildlife, a journey of discovery and appreciation, from the depths of the oceans to the far reaches of the mountains.
Day 1
Arrive in Colombo: Most flights arrive late at night so we provide a meet service and transfer for overnight stay at a nearby 4-Star Hotel

Day 2Depart the following morning by private air conditioned coach to Chaaya Blue hotel, in Trinco (6 hour drive)

Days 3–8
Snorkel with whales

Day 9
Return to Colombo and stay in historic Galle Face Hotel. Airport transfer included from the hotel.
Temperature
Water 82 – 86°F (27 – 29°C)
Land 60 – 80°F (16 – 27°C)
Visibility
80 – 100 feet (25 – 30 meters)
Chaaya Blue 4 Star hotel located on the edge of the town of Trincomalee along miles of pristine beach. Features luxurious waterfront suites. Amenities include a pool, restaurant, bar, complimentary Wi-Fi, air-conditioning, flat-screen satellite TV, minibar, coffee maker, and a private bathroom.
1 night stay at 4 Star hotel near Colombo airport
7 nights and 8 day stay at 4 Star Chaya Blue hotel in Trincomalee
All transportation from Tonga to the resort including water taxi to Blue Lagoon from Vava'u (60 minute ride)
Breakfast and sack lunches
Filming permit, fees, and taxes
Expedition leader
International and domestic flights
Alcohol and soft drinks (soda)
Unspecified meals
Unused part of the itinerary
Personal charges such as laundry, fishing, or telecommunication charges
Gratuities
What more can We tell you?
It is difficult to imagine just how huge these whales are until you're in the water with them. Their hearts can weight as much as a car; their tongues may exceed the weight of an elephant, and 2,500 gallons of blood circulate constantly to keep this whale alive. They feed almost exclusively on krill and other plankton. An adult blue whale can consume 8,000 pounds of krill daily to power their massive bodies. Exceeding lengths of 100 feet and weight of 180 tons, blue whales are the largest living animals on the planet. Even newborn babies are 25 feet long and drink more than 100 gallons of their mother's milk every day!
It is estimated that due to aggressive whaling in decades past, the current population of blue whales in the world is at about 5% of the historic population, with approximately 15,000 of an original 300,000 whales remaining worldwide. While the population has rebounded from
an estimated 1,000 whales in the mid-1950s, they are now fully protected by many management practices and fishing regulations. It is critical to promote further protection and conservation of these blue giants.
For almost thirty years, Sri Lanka has been plagued by political turmoil. Paradoxically, this has resulted in the protection of marine wildlife in its surrounding waters. The government's policy of forbidding civilians to fish or travel within ten miles offshore has allowed cetacean life such as the pygmy blue whale, sperm whale, and common and spinner dolphins, to flourish.
Ten years ago, when the conflict ended, peace brought worldwide interest in Sri Lankan tourism. Whale watching boomed. BigAnimals Expeditions, along with one of the largest local tour operators, determined that eco-tourism was crucial. Together, we encouraged the Sri Lanka Navy to
establish ecological standards to protect the whales' environment while developing safe and exclusive adventure access for research, whale watching, and diving.
Every effort is made not to disturb the whales. This is achieved by limiting our team only to four guests and when encounter time arrives we send only two people into the water to view the incoming whale.